Now more than ever, connecting virtually with our athletes is critical. NWABA is doing all we can to keep providing opportunities to engage and empower individuals who are blind or visually impaired. As 2020 comes to a close, we would like to spotlight one of our extraordinary athletes, Zoe! We recently had the honor of virtually connecting with Zoe, a 12 year old athlete from Seattle, Washington.
Zoe is a dedicated NWABA athlete and camper who started participating in NWABA programs over 2 years ago. She was just 10 years old when she attended her first camp. The first time she went to Camp Spark, she was full of excitement and nerves as it was her first time being away from her parents. As soon as she arrived, she was greeted with overwhelming sounds and feelings of celebration.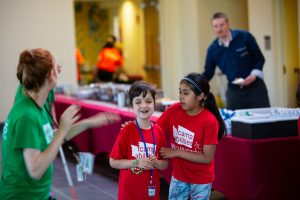 "When I first went to camp, I was both excited and nervous. As soon as I arrived, everyone started cheering my name and I felt so welcomed!" – Zoe, 12 years old
Her favorite part about attending Camp Spark is meeting new friends and participating in the talent show where she gets to perform for her friends! For Zoe, NWABA programs are a place where people understand her and support her.
Before Camp Spark, Zoe had never been away from her parents.
"Zoe going to Camp Spark was a big deal because it was her first time being away from us. The experience was very empowering not only for Zoe but also for her mother and I. We know that at NWABA, Zoe is learning how to be independent in an environment where we know she's taken care of and understood. It's a place where we don't have to worry because we know she's surrounded by people who are supporting and encouraging her in a safe environment." – Jeff, Zoe's father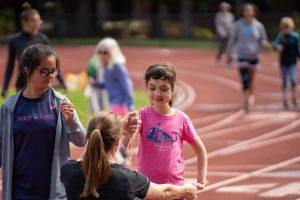 Zoe, like all children, deserves to chase her ambitions and dreams. NWABA programs empowers her to gain confidence, skills, independence, and supportive relationships that allow her to achieve her goals and have a brighter future.
With your support, we will be able to give campers like Zoe the opportunity to experience independence and foster their confidence in a supportive and caring environment.
Our goal is to raise $50,000 by December 31st to ensure athletes stay engaged and connected during a time when community matters most.
Together, let's work on empowering a brighter future for athletes like Zoe. Help us reach our goal and donate today! – Donate