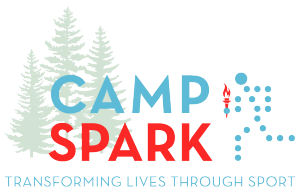 We currently have five sessions of Camp Spark, including a summer and winter session in each Oregon and Washington and a high-performance session of 5-a-side soccer for select campers.  Sessions are held throughout Oregon and Washington and there are different eligibility requirements for each session.  We are actively working to grow our Camp Spark program in order to be able to offer more sessions.  Check out the links below to learn about the different sessions!
Who: Oregon campers ages 8 – 15
When: July 19-24, 2020
Where: Linfield College, McMinneville, OR
Who: Oregon campers ages 9 – 15
When: July 26-31, 2020
Where: University of Puget Sound, Tacoma, WA
Who: Oregon campers ages 12 – 15
When: January 8-10, 2021
Where: Camp Ghormley, Naches, WA
Who: Oregon campers ages 12 – 15
When: March 5-7, 2020
Where: Big Lake Youth Camp, Sisters, OR
Who: Select Campers
When: TBD
Where: TBD
"I get to play on a team and I also get exercise and I might be able to figure out a way to exercise at home or at school, or both. I also have lots of fun. I get to meet new people and make new friends"
– NWABA Camper
Questions?
If you have additional questions or need more information about camps please contact:
Kirsten French
Programs Coordinator, Sports Adaptations and Camp Spark, Co-Camp Director
360.859.3116
kfrench@nwaba.org 
Registration opens on Monday, November 2, 2020 at 6:00am for Camp Spark 2021.