Athlete Spotlight: Eric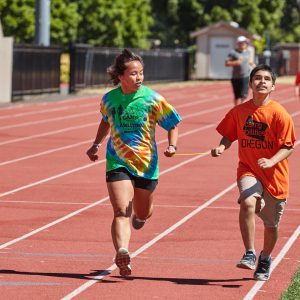 This month we would like to highlight the inspiring story of one of our athletes: Eric!
Eric is a teenager who is blind and is currently trying out for his school's swimming team after advocating for himself to be able to do so. Northwest Association for Blind Athletes is so proud of Eric! Looking back on the past three years since NWABA met Eric, it's incredibly inspiring to realize that only a few years ago he wasn't even given the opportunity to participate in standard PE curriculum and today he is aspiring to be on a swim team.

When we first met Eric, he was in his middle school PE class and was tired of not being included in the PE curriculum. His school did not have access to adaptive sports equipment or knowledge of adaptive physical activities for students who were blind and visually impaired. Their solution was to provide students like Eric the option to run on a treadmill while the rest of the class was taught the standard PE curriculum.
His teachers realized that this solution was not in the best interest of Eric or his education, so they reached out to NWABA for help. Our Director of Programs, Stacey Gibbins, came to Eric's school to not only meet Eric but give instruction to the PE teacher about how to adapt physical activities to be more inclusive. NWABA was also able to loan the school adaptive sports equipment from NWABA's Adaptive Equipment Lending Library free of charge. When Stacey met with Eric he was very shy and unsure of himself, which is not unusual when being told you can play sports for the first time as a teenager. After the consultation, Eric was included in PE with his fellow classmates and able to engage in new activities.
About six months later, his family gave us a call and wanted to sign-up both Eric and as his sister Ruth, who also has a visual impairment, for NWABA youth Sports Outreach programs like Camp Abilities Oregon. We were thrilled to have them come to our programs. It wasn't long until the family became regulars to all of our events especially tandem biking.
A few weeks after Eric experienced tandem biking for the first time, his mother Martha called Stacey to express her concerns about a recent change in Eric. He wasn't eating and was isolating himself at school and home. Martha said that Eric was happiest when he was tandem biking. NWABA jumped into action and suggested loaning Eric a tandem bike for part of the summer. Not long after receiving the bike, Eric started eating more and feeling more confident in himself.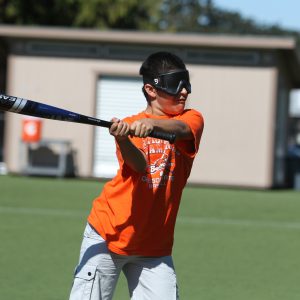 Recently, we saw Eric at our Oregon Paralympic Experience in Salem and noticed that he carried himself more confidently than ever before and was excited to reconnect with friends from Camp Abilities Oregon. We learned soon after that he was in the process of advocating for himself to be able to try out for his school swim team this winter. We couldn't be more proud of Eric and how he is starting to create his own opportunities to enrich his life.
Through NWABA's ongoing programs such as PE Consultations and tandem biking, Eric and his family have had constant access to sports and physical activity which has improved his self-confidence, fitness and social skills.
Eric's story was possible because of the generous support of our donors and volunteers. We are incredibly grateful this holiday season for our supporters who are providing athletes like Eric life changing opportunities that become the basis for breaking down barriers to achieve an enriching life full of limitless opportunities.