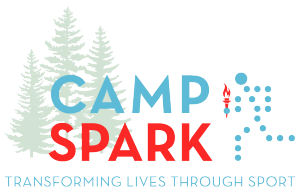 Camp Spark is a unique opportunity for our campers to develop independence and life skills through sports and physical activities that are fully accessible.  For many of our campers, this is the first time that they are meeting someone else with a visual impairment like theirs.  Campers develop skills that will impact them for a lifetime and are provided with resources that will extend the benefits of camp when they go back to their homes and communities.
Camper Eligibility:
Be able to have fun and SMILE!
Must be legally blind or be receiving vision services
Meet individual eligibility requirements for the session(s) you want to attend – See Camp Spark Sessions (Coming soon!)
Predominantly independent (assistance with tying shoes, picking clothing, hygiene reminders are okay).
Able to be mobile up to three miles a day and participate fully in the majority of activities at camp
Display behaviors that allow them to function in a group setting that does not affect other group members (no bullying, biting, kicking, fleeing or aggressive behaviors toward others)
Display medical needs conducive to a camp environment. Determination will be made at the discretion of camp medical staff prior to acceptance
"It helps me feel confident in a good way, helps me stay strong and healthy. Learning different things with new friends is my favorite. And trying things out of your comfort zone is really good too!"
–  NWABA Camper
Questions?
If you have additional questions or need more information about camps please contact:
Kirsten French
Programs Manager, Sports Adaptations and Camp Spark, Co-Camp Director
360.859.3116
kfrench@nwaba.org No Cost to Campers
Registration opens on November 1, 2022 at 6:00 a.m. for Camp Spark 2023.