#IdahoGives is on May 2, 2019
Save the Date to Celebrate Idaho Gives!
Transform lives for individuals who are blind and visually impaired!
Idaho Gives is designed to bring the state together, raising money, and awareness for programs in Idaho on May 2, 2019. This 24-hour day of online giving celebrates Idaho's powerful nonprofit sector. Join us and over 500 organization to build a stronger Idaho!
You can support an expansion of programs throughout Idaho, including goalball, swimming, overnight camps, and more!
WE ARE ASKING FOR YOUR HELP TO RAISE $8,000
Our programs are more than sports and physical activities. These become a catalyst to break down perceived barriers and empower individuals with the skills and resources that transfer to all areas of life. Thanks to your generosity, our programming can be offered at no cost to participants and their families.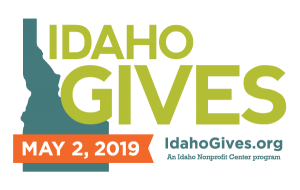 JOIN THE 24-HOUR GIVING MARATHON A GIFT OF $25 CAN MAKE A DIFFERENCE

HELP SUPPORT AND EXPAND OUR PROGRAMS
IDAHO GIVES. MAKE A DIFFERENCE.
(gifts may be reserved before the event)