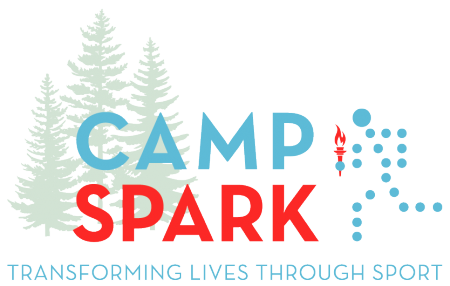 Camp Spark's Oregon sessions are a fantastic opportunity for youth who are blind or visually impaired ages 8 to 15 years old to partake in a week-long comprehensive sports camp as well as a weekend winter camp. Summer camp activities include swimming, tandem biking, judo, goalball, track and field and much more! Winter camp activities include cross country skiing, snowshoeing, tubing, and much more.  We pride ourselves on developing one BIG camp family that grows every year a bit more. We encourage community building, creating long lasting friendships and having powerful, positive experiences throughout the week.
In addition to learning a variety of sports, campers will also develop their orientation and mobility skills, expand their independence skills and advocacy skills under the instruction of many different types of educators. Our staff includes individuals from all over the country in many different specialty areas. Some of these areas include, adapted physical education professionals, teachers of the visually impaired, orientation and mobility specialists and recreational therapists and more! Our camp focuses on growing the whole camper in all areas of life in a fun, innovative and inclusive environment.
Camp Spark's Oregon summer session will be hosted at Linfield College in McMinville, Oregon from July 19 to July 24, 2020. Camp Spark's Oregon winter session will be hosted at Big Lake Youth Camp in Sisters, Oregon from February 28 to March 1, 2020.  All of our camps are sleep-over camps; they are not day camps. Camp Spark's Oregon sessions are no-cost for campers who meet the eligibility requirements.
Registration is now open for 2020!  Click on the button below to register!
"NWABA is a game-changer for me because it has brought me joy. Before Camp [Spark] I had never spent a significant amount of time with people who could relate to my daily challenges. Since the activities were so adapted, I felt it was easier to experiment with sports I had never tried before and really enjoyed. My athletic abilities and confidence greatly improved at Camp [Spark]. I am looking forward to going back to Camp [Spark] this year and eventually becoming a counselor and giving back what has been given to me."
– A. Wooters, Portland, OR

NWABA Camper (3 years)

Not sure what to expect? Click Below!
If you have any questions about camp, registration, your child's eligibility, or anything else, please do not hesitate to contact Kirsten French, Co-Camp Director, at kfrench@nwaba.org or 360.859.3116.