Support NWABA before December 31!
Give joy. Give friendship. Give community. Give today.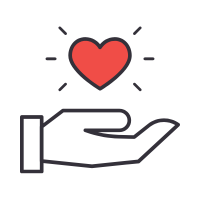 With your generosity, nearly 1,700 individuals at NWABA are given the opportunity to enjoy adaptive sports such as goalball, tandem bicycling, skiing, hiking, and swimming, with a supportive community. NWABA offers more than 130 days of programs each year, free of cost to children, families, and adults.
Funds raised from this campaign will go towards transforming the
lives of individuals who are blind and visually impaired.
Thanks to your support, Northwest Association for Blind Athletes has been growing and expanding programs to support more individuals who are blind and visually impaired. For example, this year Judah and his family discovered NWABA's Adaptive Equipment Lending Library which gave them access to equipment to play with at school with his friends.
With the opportunity to participate in sports and physical activities, individuals like Judah gain confidence and independence, develop healthier, active lifestyles, and build a community of supportive peers and meaningful relationships.
Join us this year with a gift to empower individuals of all ages, backgrounds, and abilities through confidence, independence, and community.
Will you consider making a generous gift to NWABA? 
Help NWABA reach $30,000 by December 31!