As Northwest Association for Blind Athletes (NWABA) turns Sweet 16, we want to thank you for supporting us.
Since this organization started on May 5, 2007, we have been working hard to foster independence and improve the quality of life for those who are blind and visually impaired through sports and physical activity.
In honor of these past years, please help us continue to transform the lives of thousands of individuals who are blind or visually impaired by giving a gift to celebrate our athletes. Every gift makes a difference, and whether it's a one-time donation or a reoccurring gift each month, you will make an impact on the lives of the children, youth and adults who are served by NWABA.
Thank you for supporting NWABA and we look forward to the next sixteen years!
Our Impact

Individuals Served
Our programs have grown from serving 6 individuals in our first year in 2007 to nearly 1,900 in 2020. Program Hours
More than 438 program hours were given to visually impaired youth in 2019-2020. Volunteers
An extraordinary team of 450+ volunteers provided more than 1,000 hours in 2019-2020 during unprecedented times.
90% of participants said NWABA has encouraged them to be more independent in their everyday life.
89% of participants said NWABA has inspired them to advocate for themselves in their home, school and community.
93% of participants said NWABA has encouraged them to try new things out of their comfort zone.
96% of participants said NWABA has helped them build new friendships.
Reaching Our Regions the Last 15 Years
Northwest Association for Blind Athletes programs and services span the region to serve individuals with visual impairments and their families in communities of all sizes across Washington, Oregon, Idaho, and Montana.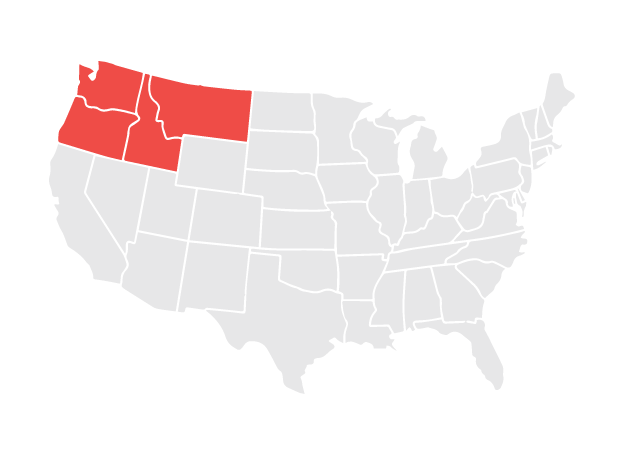 NWABA Thanks Our Dedicated Leadership for Making the Last 15 Years Possible
Northwest Association for Blind Athletes is led by an incredible group of staff, volunteers, and program partners who work tirelessly to enhance current programs and develop new innovative approaches to ensure every individual who needs our help has the opportunity to participate. Learn more by checking out our Team, Board of Directors, and Founder, President/CEO's message.