Athlete Spotlight: Eli
This June, we would like to spotlight one of our extraordinary athletes, Eli!
Eli is one of our returning campers from Camp Abilities whom many of his fellow campers look up to because of his adventurous and enthusiastic spirit towards sports- especially beep baseball.
"I go to camp because every day we do something that I love – sports! And we can also socialize better than at our schools since we are all blind and visually impaired." – Eli, 12 years old
But before attending camp, Eli had never met more than three peers his age that also had a visual impairment.
"I have worked with Eli as his Orientation & Mobility instructor since he was in 2nd grade. Now that Eli is in middle school, he's the only student at his school with a visual impairment." Sara – Eli's teacher.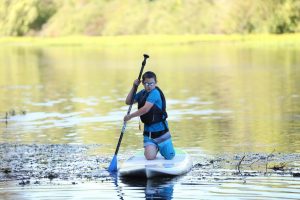 Concerned that Eli wasn't interacting with kids he could relate to, his mother Libby searched for a camp that would not only introduce Eli to kids with visual impairments, but empower him to not feel defined by his lack of sight. When she learned about NWABA's Camp Abilities Oregon, she did not hesitate to sign Eli up and drive the 450 miles to Salem, OR for camp.
"Camp has allowed Eli to gain confidence and realize that even though something seems impossible, if it's a new sport or navigating a new environment or cooking a meal, it is achievable." Libby – Eli's mom
With your support we will be able to give 80 campers, just like Eli, the opportunity to meet peers they can relate with and give them the confidence to take on new challenges.
Our goal is to raise $75,000 by June 30th to ensure children throughout the Northwest have access to Camp Abilities at no-cost to their families. Help us reach our goal and donate today!