How much do 28 hockey players who are blind and visually impaired weigh? Enough to break the ice and make NWABA's inaugural hockey experience in Tacoma, WA a success!
On Saturday, January 19, 2019, NWABA traveled to Tacoma Twin Rinks to play and learn more about blind hockey alongside other athletes from Portland, Vancouver (WA), Tacoma, Seattle, and Vancouver, BC. The day consisted of skating, watching a demonstration scrimmage by the Vancouver Eclipse, more skating, and another scrimmage put on by some of our athletes along with the Eclipse. All equipment that was used for our four-hour ice time, which included helmets, shoulder pads, jerseys, breezers, shin guards, and skates, was provided by Tacoma Twin Rinks.
A few adaptations are made to play blind hockey, such as the composition of the puck, the type of whistle, and the size of the net:
The puck – Usually made from rubber and measured at three inches in diameter and one inch in thickness, a blind hockey puck is made of metal, is hollow with metal pellets inside, and is five inches in diameter and two inches thick. These adaptations make the puck slower and easier to track.
The whistle – An electronic whistle is used to direct game play. It is important to note that the electronic whistle emits noise after one successful pass is made between the players on offense. The whistle is blown so that the goalies and other players with lower levels of vision on defense are ready for shots to be taken on the goal.
The net – A typical hockey net stands four feet tall where a blind hockey net is three feet tall. This adaptation helps keep the puck low to the ground so it can continue to make noise to be tracked.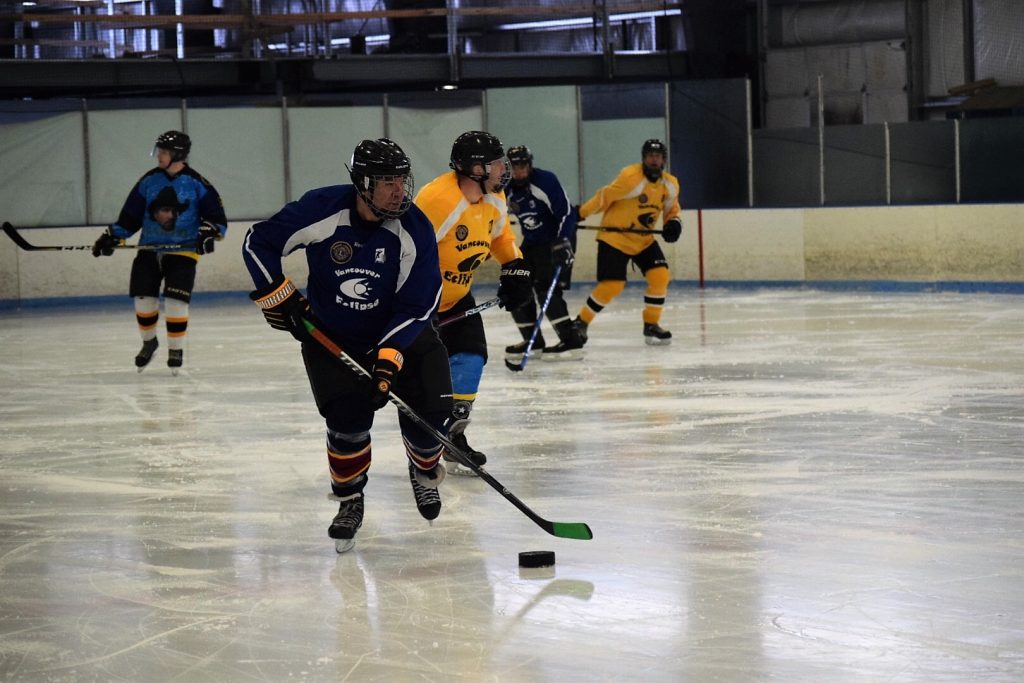 Although hockey is a non-intentional contact sport, the players still wear all the equipment that a typical hockey player would wear. The objective of the game is also consistent with typical hockey where the players are trying to score more points than their opponent.
Special guests from the experience included 10 players from Vancouver Eclipse's team, Matt Morrow, Executive Director of Canadian Blind Hockey, and Mark DeFlorio, a defenseman for the USA Blind Hockey team. As blind hockey is growing across the nation, Mark and his wife Krissy are sliding into action and are in the process of starting a team in Seattle, the Seattle Insights.
If you would like more information about how you can help the game grow, please visit our website at www.nwaba.org or call us at 360.984.5627
Post written by Mary Holmes