Beads of sweat roll down his face as he listens to the birds sing among the trees. With each step, Prateek glides his trekking poles across the trail to feel any change in terrain. He's at peace here in the wilderness.
Shortly after moving to the United States for grad school, Prateek discovered a sense of freedom in the mountains, unlike anything he had ever felt before. He connected with the people, the landscape, and the physical activities. Climbing, hiking, and exploring became his identity.
So while traversing Mt Jefferson, at age 31, losing his vision shattered his world.
"I had to relearn everything – like a baby."
Merely a year after graduating, Prateek suffered a traumatic brain injury. This resulted in a complete loss of vision and smell. He struggled to find his connection to the outdoors, and even bigger, he lost his sense of community and belonging.
For several years, Prateek was recovering physically, mentally, and emotionally. Before the injury, Prateek was an introvert. He felt comfortable alone in a crowd or solo exploring the wilderness, simply observing the world around him. Once losing his eyesight, Prateek's connection to his community and his surroundings had all changed.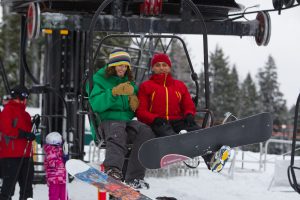 Along his pathway to recovery, Prateek was introduced to the Northwest Association for Blind Athletes. He signed up to attend the next upcoming event, just a few blocks from his home.
"It was awesome. It was empowering. I was bursting out of my skin."
With NWABA, Prateek has had the opportunity to snowboard, to hike, to bike, and to run like he used to. Through NWABA's sports programming, he is able to connect with himself and join a community of people who understand him.
Prateek has made life-long friends with fellow athletes, guides, and even volunteers at NWABA. His love for the outdoors and the outdoor community was rejuvenated in a way he never knew was possible.
"Before my injury, I could observe with my eyes, smell the flowers, and experience my environment without anyone else…Relationships become even more important as a blind person."
Gracious for not only the sports and physical activities offered with NWABA, Prateek has made lifelong friendships with fellow blind athletes and sighted guides. He finds happiness in building relationships with those who join him in his outdoor hobbies. Instead of watching the world go by, Prateek is actively engaged in listening to others' stories, and confidently sharing his own.
"NWABA programs have a significant, pronounced impact not just on the blind athletes' life, but also on the life of the people that are closest to them – their families, romantic partners, and their children."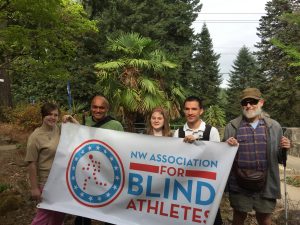 Four years after Prateek first joined NWABA, he still attends programs regularly. NWABA still plays a crucial role because he loves to snowboard, to bike, to run, and to hike. Best of all, he shares these experiences with his neighbors, peers, and community. Prateek believes that without NWABA, he would not have had these opportunities to grow, to learn, and to rediscover his identity.
Click here to read about what Prateek is doing today.
Because of supporters like you, NWABA is able to dramatically changes life for individuals like Prateek. We host more than 1,500 athletes annually through a variety of sports and physical activities across Washington, Oregon, Idaho, and Montana.
Your gift can transform lives for children, adults, veterans, and families.
"It's critical, and donors make that happen." – Prateek