Did you know that White Cane Safety Day has been celebrated annually since October 15, 1964? 
This day celebrates the achievements of people who are blind or visually impaired and the white cane, which is an important tool of independence.  This year marked the 55th annual White Cane Safety Day and Northwest Association for Blind Athletes was able to help celebrate across our areas in a number of different ways!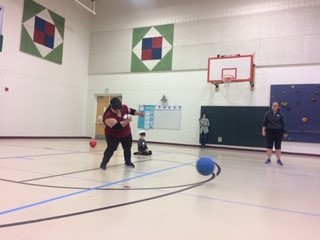 On October 15 and 16, we hosted Paralympic Experiences in Selah and Quincy, WA respectively, reaching 35 youth athletes.  After doing introductions and some team building cooperative games, we dove into goalball.  For many of these individuals, this was not their first time playing goalball so we shifted focus to some more advanced skill development.  Once we had done a number of drills and other practice, athletes broke into teams of three for gameplay.  By learning and practicing more advanced skills during practice, athletes were able to engage in fast-paced and competitive games.
After numerous games, we broke for lunch and heard from the Washington Department of Services for the Blind's Steffi Coleman about other enrichment opportunities for individuals who are blind and visually impaired in their own communities.
When lunch was over, we jumped right into beep kickball.  For many of our athletes, aside from former campers, this was a new sport.  Athletes spent time practicing kicking, fielding, and base running before we played a full game. Everyone picked up this sport quite quickly and we were able to get in a few competitive games before it was time to head home.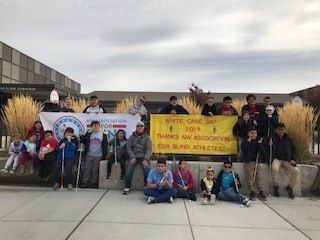 Everyone really got into the spirit of the day; one teacher even handed out pencils that looked like white canes and had information about White Cane Safety Day attached.  These events continue to grow each year.  As one athlete put it "This is now a global event!"
In addition to our White Cane Safety Day Paralympic Experiences, we were able to participate in Portland State University's celebrations for the day.  One of our Program Specialists attended the event and handed out flyers for upcoming events, met new athletes, and connected with current athletes who were also attending, and participated in a White Cane Safety walk around campus.  There was even a 20' tall white cane!
It was great seeing White Cane Safety Day celebrations going on across our areas.  Next year will be the 56th annual White Cane Safety Day and we cannot wait for what this day has in store for all of our athletes across our areas!
Written by Kirsten French. Edited by Melissa Ulrich.