Twelve campers between the ages of 12 and 15 who are blind and visually impaired traveled to Ghormley Meadows in Naches, WA for NWABA's inaugural weekend winter camp from Friday, January 11 to Sunday, January 13. Similar to NWABA's summer camps, winter camp was packed with challenging sports and physical activities that included skiing, broom ball, snow tubing, and cooperative games. Although some of the activities were new to the athletes, everyone played their part in keeping a positive attitude and an encouraging atmosphere throughout the weekend.
As the campers traveled from different areas in Washington to participate in winter camp, they understood the value of the time they spent together being active.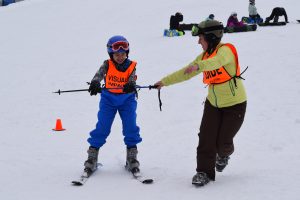 "I feel empowered because a lot of kids with visual impairments don't get the same opportunities that a lot of other kids will, and this camp has really given us these opportunities." said Jaya Eastman, one of five girls who attend the camp. Not only did winter camp provide the opportunity to be active, but it also provided the opportunity for the campers to work on valuable socialization skills. "I'm here with all my friends and everyone who understands what it's like to be visually impaired or blind" said Kady Hammer.
Stories like Jaya's and Kady's remind us of why we hold these events and why it is important to provide these types of life-changing opportunities. Through our programs and services our athletes gain confidence, independence, community and leave a life of isolation behind.
If you would like to volunteer at our next weekend winter camp it will be held at Big Lake Youth Camp (Sisters, OR) from Friday, March 1 to Sunday, March 3. Please contact Kirsten French, kfrench@nwaba.org or 360-859-3116 for more information.
Post written by Mary Holmes