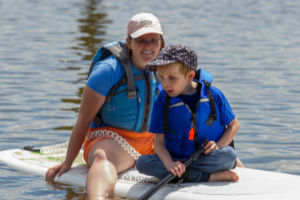 The sun is shining bright and that means NWABA's summer programs are in full swing throughout Washington, Oregon, Idaho and Montana. It's time to trade in your snowshoes for hiking boots or a paddleboard. Or get zen under the sun with one of our outdoor yoga clinics. You can even beat the heat by tuning into one of our virtual programs in the comfort of your own home. Regardless of an athlete's skill level or abilities, NWABA has a program for you.
Summer at NWABA also means starting a new session of Camp Spark. NWABA is excited to be hosting its seventh summer session of this comprehensive overnight sports camp for individuals ages 8 to 21, who are blind and visually impaired. This unique model uses sports, physical activity, and orientation and mobility as a catalyst to encourage leadership, independence, advocacy, and daily living skills that contribute to overall greater quality of life.
Sixty-five campers, with ages ranging from 8-21, will ascend upon the Linfield University Campus in McMinnville, OR through July 28th to participate in a variety of sports and recreational activities including goalball (a sport specifically developed for individuals with visual impairments), fitness, beep baseball, tandem cycling, yoga, track & field, and numerous others. The campers vary in level of skills and abilities and NWABA offers camp free of charge to youth and their families.
Through mid-2023, NWABA will host a total of seven week-long summer and winter camp sessions in Oregon and Washington, with one summer session tailored specifically to children, youth and young adults with multiple disabilities, as well as a 5-a-side soccer skills camp.
For more information about our summer programs or Camp Spark, visit our website at www.nwaba.org/sports-programs.