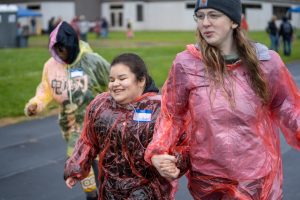 Northwest Association for Blind Athletes (NWABA) believes in the power of partnership. We are the organization we are today because of the valuable partnerships that we share with our athletes, families, educations, and other agencies serving people who are blind or visually impaired. As Helen Keller said, "Alone we can do so little; together we can do so much."
NWABA is dedicated to supporting as many individuals as possible. In order to expand our reach and ensure opportunities that target the whole person, NWABA provides dozens of events each summer in partnership with other organizations who also share our mission of providing opportunities for children, youth, and teens who are blind or visually impaired across Washington, Oregon, Idaho and Montana.
Several of our partner organizations focus on providing life skills such as education and workforce readiness, while at the same time, NWABA incorporates sports opportunities such as tandem cycling, goalball and other recreational activities to ensure that these individuals are receiving all the services needed to reach their greatest potential.
During these events, participants are learning leadership skills, participating in team building, creating friendships, setting goals, and learning other skills to improve their overall quality of life. In tandem with the services our partners are providing, children and youth who are blind or visually impaired are receiving services to reach their greatest potential.
We would like to thank all the partners who are working with us this summer including Washington Department of Services for the Blind, Oregon Commission for the Blind, Idaho Commission for the Blind, and countless others. Together, we are truly making a difference.
Click here to visit our website and learn more about our program partners.