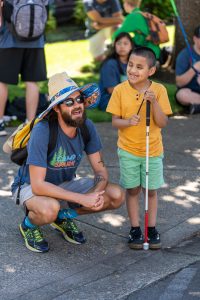 After several years of hosting Camp Spark—a comprehensive, residential sports camp for youth and young adults who are blind and visually impaired—2022 offered campers and counselors alike a season of firsts this past July.
NWABA is growing and so is Camp Spark! We've added a third week-long summer session, in order to serve more children, youth and young adults throughout Oregon and Washington.
As NWABA campers and counselors converged at Linfield University in McMinnville, Oregon—under the tutelage of adaptive education professionals and pre-professionals from across the country—nearly 70 campers, ages 8-21, had access to life-changing opportunities by participating in a week of sports, which positively impacted their independence and quality of life. Throughout each week, campers participated in adaptive sports including tandem biking, track and field activities, judo, goalball and swimming.
Outside of these sports activities, campers also had numerous opportunities to learn and practice a variety of independence skills, preparing them to be more autonomous in their everyday life outside of camp. Through a partnership through Portland State University's orientation and mobility program, campers had the chance to enhance their independence by learning and practicing travel skills on a college campus. Throughout the week, each camper set personal goals and with staff support, worked at meeting and exceeding these goals. These goals also extended outside of camp, allowing the impact to encompass all areas of each camper's life.
This year saw many new faces but for some repeat campers, this was their last year to participate at Camp Spark. During their last night of camp, they were able to share the impact that Camp Spark had on their lives overall. Many shared about when they first arrived 5, 6 or 7 years ago, they had no idea what an impact Camp Spark would have on them. Looking back in this moment, they see the friendships that were formed, the independence gained from learning what each person is capable of, and the confidence built as the older campers transitioned as mentors to the younger campers. Each person talked about looking forward to the day when they could come back to Camp Spark as counselors and help others grow. We can't wait until they do!
Camp Spark 2022 also include the first camp session tailored specifically for children, youth and young adults who were blind or visually impaired and, additionally, had complex needs. This session was specially designed to ensure all sports and activities were adapted to this group of campers. Each camper worked one-on-one with a counselor to guarantee that they were fully engaged in all activities from riding a recumbent tandem bike to socializing with their peers. This new session took years of planning. We were excited to finally host these campers and we look forward to more sessions like it.
For more information about our other programs or Camp Spark winter sessions, visit our website at www.nwaba.org/sports-programs.