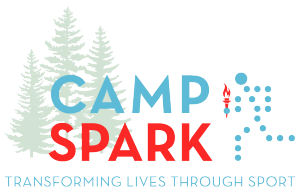 Our staff are vital to ensure we offer a truly life-changing camp experience. These staff range in a variety of related fields and backgrounds. We have adapted physical education teachers, athletic directors, Paralympians, teachers of the visually impaired and certified orientation and mobility specialists! All of our staff have to complete an application, submit references, be interviewed by a Camp Spark director, and pass multiple background checks. These individuals are the best at what they do and we pride ourselves on bringing together the best team possible for our campers.
For more information on Camp Spark summer session positions, click through the buttons below.  For all other sessions of Camp Spark, including winter and sport-specific sessions, staff roles are primarily counselor positions and are all volunteer roles.
Must show enthusiasm and willingness to have fun!
Must be 19 years or older, or have completed at least 1 year of undergraduate school.
Must complete application and interview process.
Must be willing to submit a voluntary disclosure statement and pass both a background check as well as a check of the national sex offender registry.
Must be moderately active and able to stand 12-14 hours daily.
Must be able to attend all required orientation training.
Must be able to stay at the session 24/7 throughout the duration of the session.
Must have access to a laptop computer/tablet with Microsoft Word or Adobe during the week of camp.
Preferred to be studying or working in a related field.
Summer Staff Positions
Below are the staff positions for sessions 1 and 2.  Staff will receive a stipend at the end of each week of camp based on their role. Staff who are able to attend and work both sessions will be given first priority in receiving a position.
Volunteer Positions
Positions for sessions 3-5 are volunteer.  All volunteers must meet the above general criteria and be able to serve 24/7 for the duration of the session and will receive room and board.  Nurses for sessions 3-5 will receive a stipend in addition to room and board. Register here to volunteer at Camp Spark. 
Questions?
If you have additional questions or need more information about camps please contact:
Kirsten French
Programs Coordinator, Sports Adaptations and Camp Spark, Co-Camp Director
360.859.3116
kfrench@nwaba.org 
To apply as staff or to volunteer at any Camp Spark sessions, click on the button below: